Softball Factory alum Haley Price has committed to taking her softball talents to Thomas University and is ecstatic to have the opportunity to continue building relationships in the softball community. As for Price, the sport is all about teamwork and creating a bond with those around you.
"The thing that I love about softball is that it isn't an individual sport," the Lodi High School senior catcher and outfielder shares. "It requires everyone on the team for us to be successful. With it requiring everyone on the team, it has helped me create close bonds and great friendships with many of girls that I have played with over the years."
In fact, Price says that her future teammates and coaches at Thomas University are what drew her to committing to becoming a Thomas Nighthawk.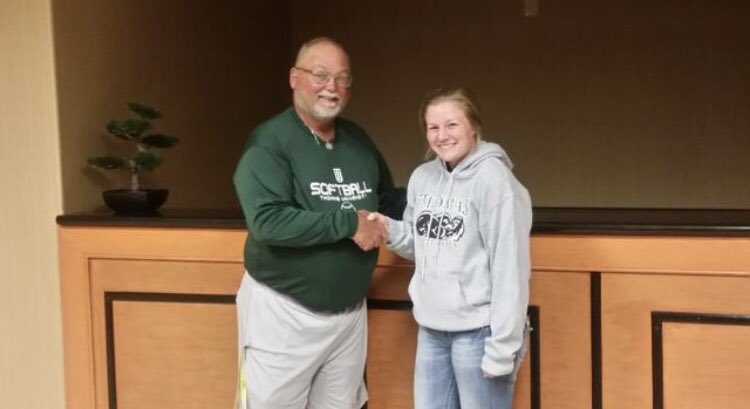 "What went into my decision of committing to Thomas University was the atmosphere in Thomasville," she reveals. "I fell in love with the town and the people there. Another thing that went into my decision was the coaching staff and the girls that are on the team. I feel very comfortable with the coaching staff there, and the girls were very friendly and welcoming to me."
This sense of feeling was welcomed and being a part of something special with others is also what the Lodi, Calif. native believes stood out the most from her experiences with Softball Factory.
"I like the family aspect and unity that Softball Factory provides," Price, who has attended a Softball Factory College PREP Program in San Francisco, Calif. in March of 2018 and both the Under Armour Softball Factory Fall Classic and the Fall Classic National Showcase in November of the same year, answers when asked what she likes about Softball Factory the most. "The coaching staff is very motivational and friendly. The evaluations from my first tryout to my final tournament showed me my development and growth along with areas I need to continue improving on."
To have the opportunity to continue her softball career with the Nighthawks is something that is very dear to Price.
"When I committed to Thomas University, it was very exciting and emotional for me," she says. "It was emotional for me because it showed me that all my hard work, time and dedication has paid off. It also allows me to fulfill my goal for playing softball at the college level."
Now, at that college level, Price will be able to build many more special relationships.
"The thing that I am looking forward to about attending Thomas University is that not only do I get to further my education to become a successful person later on in life, but at the same time I get to play the sport I love for another four years of my life," she states. "Then, I also get the opportunity to meet so many new people and create new friendships while I am there."